Mitre saws (often referred to as chop saws) are the best tool to use to make quick but accurate crosscuts at selected angles or bevels. Depending upon your requirements, most can be easily mounted to a bench, table or leg stand to provide extra stability and precision.
Compared to a table saw, although both use a rotating circular blade, table saws are more of a general-purpose cutting tool whereas mitre saws specialise in crosscuts and angular cuts.
To assist you in selecting a mitre saw, our handpicked selection lists top-performing models, chosen based on our first-hand experience cutting wood at various angles and bevels. Our testing and up-to-date research further ensure the quality of our recommendations.
Our Top Picks At A Glance:
How The DIY Works Team Tests & Rates Mitre Saws
From cutting skirting board (
wood and MDF
) to decking, over the years we've tried and tested a wide range of chop saws. This is primarily because we own multiple properties (Airbnb's and rentals) and we find ourselves continually requiring the use of the saw and it has certainly paid for itself several times over. Therefore, we feel that we have plenty of experience to base our recommendations on within this article.
Richard Morgan/DIY Works
In terms of the mitre saws we use regularly, we've owned the Evolution DB-3 for a few years now but we recently upgraded to the DEWALT saw as shown in the photo. Our most recent use of it was to cut skirting board and architrave and we were very impressed with how easy it was to use.
However, to keep up our commitment to reviewing and testing the latest mitre saws (for this article), we are upgrading our current saws to the latest offerings each year.
The photos below display the latest mitre saws we've tested at DIY Works and each is recommended within our roundup above.
Richard Morgan/DIY Works
Richard Morgan/DIY Works
Richard Morgan/DIY Works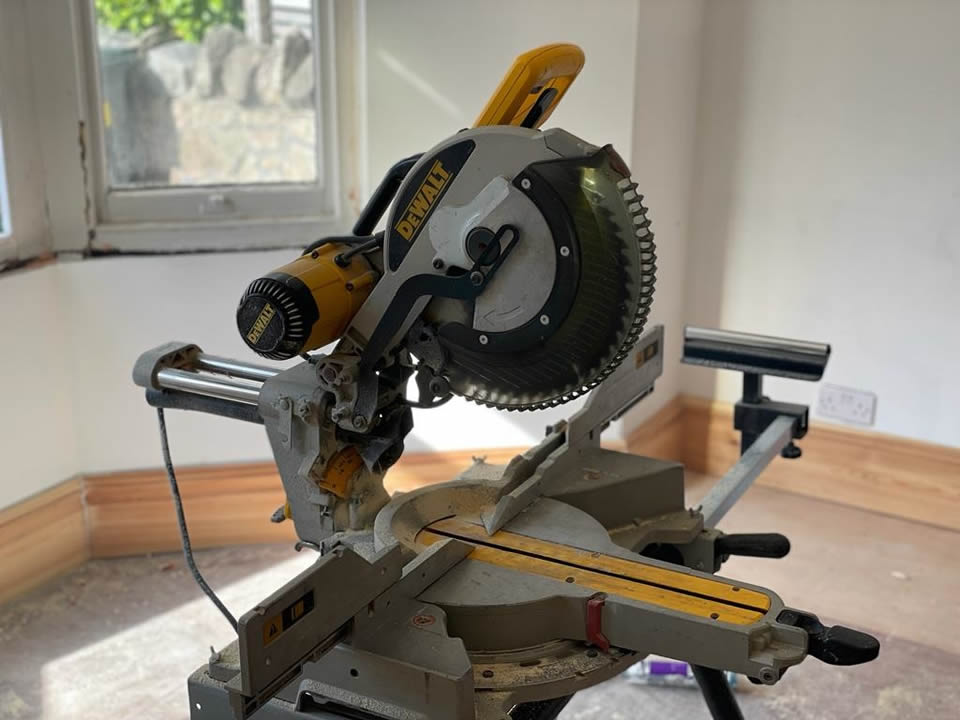 Richard Morgan/DIY Works
During our testing, we mostly used the chop saws to cut skirting board, architrave, decking, laminate flooring and similar materials. We also asked for input from multiple carpenters that we hire for renovations on their thoughts too.
As well as our extensive testing and experience of using multiple mitre saws, we also based our recommendations on the latest research and a number of factors. Some of the factors that we took into consideration included the mitre saw's cutting capacity, build quality, ease of use, no load speed, saw blade, weight, warranty and value for the money.