In terms of decorating, painting new plaster is very different to painting an ordinary wall. For example, there is more preparation needed and you will also need to apply a mist coat, which acts as a primer prior to your top coat.
As we have recently had multiple rooms plastered within our house, we created the below guide with photos on how to paint new plaster whilst we were painting the room.
What You'll Need
Step ladders
Bucket
Paint stirrer
Masking tape
Paint tray
Emulsion paint
Filler
Paint roller
How To Paint New Plaster
---
1. Check The Plaster Is Dry
Before you begin to paint new plaster, it's crucial that you have allowed it to completely dry out. Failing to do so can cause adhesion problems and you may find that it will eventually peel off.
Plaster that's dry will be much lighter in colour and it will also have no dark spots. If you are still unsure, we wrote an in-depth guide on how long plaster takes to dry if you want to learn more.
2. Prepare The Plaster
Depending upon the quality of plaster that's been applied, you may need to prepare it before painting. A medium grit sand paper should be used to remove rough patches and an extra-fine sand paper for creating a smooth surface ready for paint. After you've sanded down the plaster, it's also a good time to mask up the area with quality masking tape.
3. Mix Your Mist Coat
In short, a mist coat is a mixture of water and emulsion paint that acts as a primer and avoids uneven brush strokes when painting new plaster. Ideally, it should be mixed at a ratio of 80% paint and 20% water. As you can see in the below image, we are mixing up a mist coat in a bucket and using a paint stirrer to mix the paint and water together.
If you don't want to mix up a mist coat yourself, you can use a water based primer instead. However, this will cost far more than mixing up a mist coat yourself.
When it comes to mixing up a mist coat, you don't have to use the best rated emulsion paint on the market. Instead, you can use any light coloured water based emulsion because its being mixed with water anyway.
4. Paint Your Mist Coat
With the mist coat mixed up and ready to be used, you can proceed to painting the new plaster.
As you can see in the image, we used a paint roller to apply the mist coat. However, for some people, this may be quite messy because it can cause paint to splatter. Alternatively, you may wish to brush the mist coat onto the walls to avoid paint splatter but this may take some time.
After applying the mist coat, it's advised that you wait at least 24 hours before applying the top coat.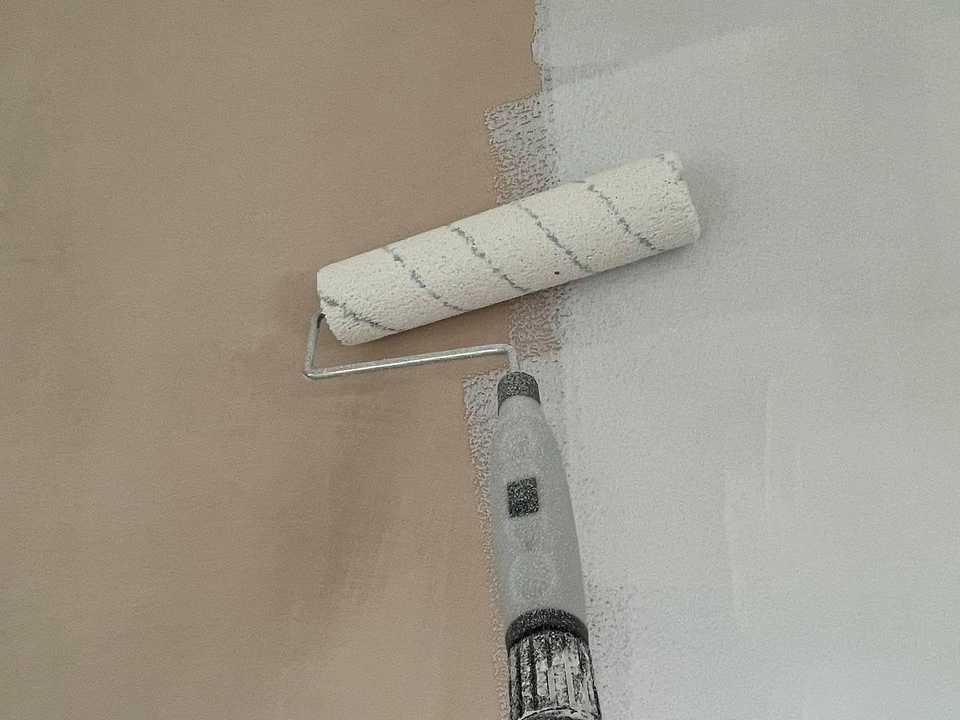 5. Paint Your Top Coat
After allowing the mist coat to dry and using a filler upon any imperfections, you can proceed to applying a final coat of emulsion to your wall. For the best results, you may need to apply more than one coat.
Conclusion
Painting new plaster is relatively easy and as long as you mix the mist coat correctly, there is very little that can go wrong. Hopefully our guide has provided you with an insight of what's involved. However, if you need further information, feel free to get in touch with our team and we will try to help out where possible.
Below you can find a video of us painting new plaster as well as further photos that we posted upon our Instagram.