Table saws are best used for precisely cutting a range of materials such as wood, MDF and metal with superior accuracy. In terms of its construction, it consists of a fixed blade that protrudes out of the table as well as a supporting rail. Although there are many budget options, it's worth doing your homework to find a machine that best suits your requirements.
To assist you in selecting the right table saw, our handpicked selection lists top-performing models, chosen based on our first-hand experience using multiple machines to cut a range of materials. Our testing and up-to-date research further ensure the quality of our recommendations.
Our Top Picks At A Glance:
How The DIY Works Team Tests & Rates Table Saws
Table saws are improving each and every year and through the years of using them for various cutting applications, we've tried and tested many machines from the best in the business. Our current favourite table saw is the DEWALT 7485 (as shown in the photo of our very own machine) and it's our favourite because it really does tick all the boxes. Of course, as it's manufactured by DEWALT, it does come with a premium price tag but for the money, it's built to the highest of standards, very portable, provides plenty of performance and is backed by a reputable brand for peace of mind.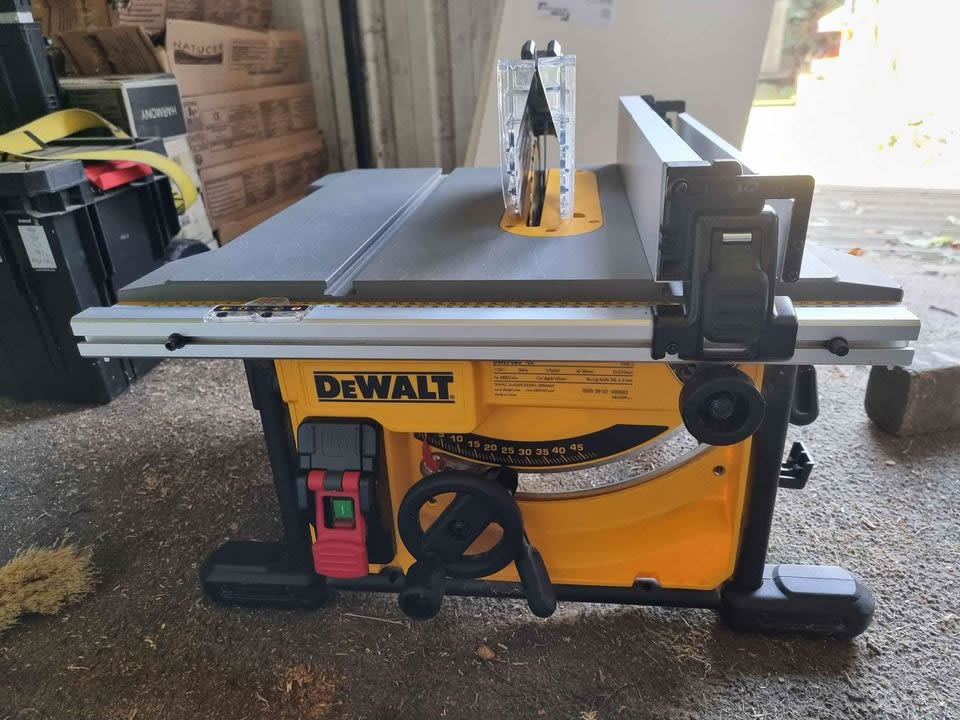 Richard Morgan/DIY Works
As well as owning and using the DEWALT 7485 for quite a while now, we've also experienced and tested many other table saws. For example, below we tested two table saws by the Evolution brand and we were impressed by both.
We tested the Rage 5-S over a few months and we were really impressed by the high-powered gearbox and blade system that it offered. The other Evolution table saw we tested was the Fury model, which was Ed's (another member of the DIY Works team) first table saw and considering it's a budget table saw, it was easy to use and perfect for beginners.
Richard Morgan/DIY Works
Richard Morgan/DIY Works
Before purchasing the DEWALT table saw, we used to own the Makita MLT model and although it was a brilliant machine, we required a more portable alternative. However, if you are in the market for a heavy-duty professional table saw, the Makita MLT (as rated in the above list) is highly recommended. As shown in the images below, it offered plenty of adjustment and it was built to the highest of standards with the performance to match.
Richard Morgan/DIY Works
Richard Morgan/DIY Works
As well as testing and using a number of table saws over the years, we also based our recommendations upon plenty of research and a number of factors. Some of the factors that we took into consideration included the electric motor's performance, cutting capacity, construction quality of the machine and blade, safety features, ease of use and setting it up, portability, adjustability, supplied hardware, weight, warranty and value for the money.